Richardís Links for Peace
Thank you
Thank you for taking time to explore the cause of peace. Here are some organizations, magazines, books, and web pages. You can use them to connect to the worldwide movement for peace. Click here for a text used in Richard's speech

Click here for a flyer about our the vigils we held in downtown Dover, Ohio, in 2003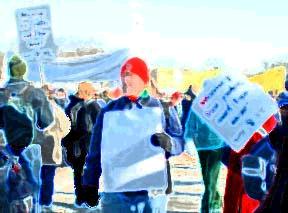 Organizations
Fellowship of Reconciliation
Box 271, Nyack, NY 10960
www.forusa.org
Fellowship magazine is $25 per year.
American Friends Service Committee
1501 Cherry Street, Philadelphia, PA 19102
National: www.afsc.org/
Akron office: www.afsc.net/
Central Committee for Conscientious Objectors
630 20th Street, Oakland, CA 94612
http://www.objector.org/
The GI Rights Hotline, 1-800-394-9544, provides information to members of the military about discharges, grievance and complaint procedures, and other civil rights.
Christian Peacemaker Teams
P. O. Box 6508, Chicago, IL 60680
http://www.prairienet.org/cpt/
Books
The Powers That Be, by Walter Wink
Peace is the Way, writings on nonviolence from the Fellowship of Reconciliation, edited by Walter Wink
On Civil Disobedience, by Henry David Thoreau
The Politics of Nonviolent Action, by Gene Sharp
Hebron Journal, stories of nonviolent peacemaking, by Art Gish; available from:
www.mennolink.org/books/search.cgi?bk.agg.01.txt
Web links
Wooster Friends Meeting
Tate & Renner, Richardís home page
Richardís photos of the 2003-01-18 peace march in Washington
Summary of Gene Sharpís books on nonviolence
Wisconsin Network for Peace and Justice has a thoughtful introduction to working for peace.
International ANSWER, organizer of the 2003-01-18 peace march in Washington
Click here to get a weekly email with action ideas from the Friends Committee on National Legislation.
Draft Resistance, a site that shares information useful to stop the draft before it starts.
---
Last Updated: 2006-11-22
Hosted by Xanthus Inc.
Copyright © 2003 Tate & Renner